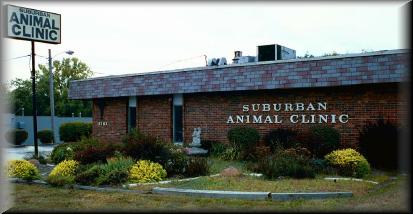 We are pawsitive you'll love us!!
Phydeaux lounges near his cage door waiting patiently. Jingle, click. It's the sound he's been waiting for! Cheryl, the clinic manager has arrived at last to take him and the other clinic patients for their morning walk. He jumps to his feet and wags his tail at her. He feels so much better this morning. He wonders if today will be the day he'll get to go home again. Cheryl opens his cage door and attaches his leash. She smiles as she notices that Phydeaux is feeling better. "Dr. Bob has done it again." she muses. "Come on boy, let's go outside. I have a feeling you're headed home today." she says to the bright eyed dog who just a week ago had nearly gone through Heaven's "doggie door".
"Good Morning Mr. Moberly" Cheryl says to her first set of patients. Mr. Moberly holds his cat Morris up to see see Cheryl and replies "I'm doing fine, but Morris isn't really too thrilled about getting spayed this morning." Cheryl smiles at the nervous kitty, "Don't you worry Mr. Moberly, Morris will be just fine. We'll call you when she's ready to be picked up." She waves goodbye to the elderly cat owner and takes Morris to to the back of the clinic where she can wait for the doctor in peace and quiet. A ringing phone brings her quickly back to the front, "Good Morning, Suburban Animal Clinic, can I help you?"
30 phone calls later Cheryl catches her breath as she thinks about the questions she's just spent time answering. "Why is my dog itching?", "What should I do with this lost kitten?", "Is my puppy ready for his first shots?" She's glad that all those people were able to find the answers they needed. Jingle. "Good Morning Cheryl." says Dr. Bob McCool, one of Suburban Animal Clinic's two resident veterinarians. He's looking forward to another challenging day and quickly goes over his surgery and appointment schedule for the day. "Three spays, two dentals, three neuterings, then 15 appointments. A busy day for sure." he says as he wanders back to see the waiting animals, "But worth every minute" He adds as Phydeaux begins wagging his tail, thump, thump, thump. Dr. Bob examines the fortunate dog and pats him kindly on his head. "I think you're well enough to go home today Phydeaux, we sure will miss you though." Phydeaux licks his hand and watches happily as Dr. Bob goes on to help yet another pet. Phydeaux closes his eyes to dream about home. "Yep, today's going to be the day."
Total Site Visitors:

Custom Website Design by Fire Escape